Tenants at No 18 & 19
Jump to navigation
Jump to search
The numbering of the houses came from the Womens Institute. Mrs. Rees Mogg, (after the W.I. approached her), had all her tenants' houses numbered as they are now, and two white cottages, now called Avon Cottage and Clifford Cottage, were Nos 18 and 19. Mrs. Giles who died some years ago, once told me that her grandparents lived in No. 19 and No. 18 was used as a dairy. Mr. and Mr. Mullis occupied No. 19 and when they left, Clem Faulkner took over
No. 18, almost 100 years ago, was a weekend cottage - believe it or not! The Rev Pippet had become ill and the Rev Hodgson took the services and eventually took over as Rector when Rev. Pippet died. He was unable to live at the Rectory because it was still being used as three cottages.
Mrs. Pippet was still living at Red Hill House , so the Rev Hodgson carried on living in his ancestral home, Clopton House in Stratford, Mondays to Saturdays, and spent all Sunday at No. 19 where he ate his meals, slumbered afterwards, interviewed couples intending to wed and from where he visited his parisioners. While he was Rector, he arranged for the organist and church choir to hold a sports day on the lawns of Clopton House, being transported there on Mr. James' huge hay wagon.
The sale of Sister Hawkins
When Canon Brookes started his living with us at Clifford Chambers, No. 19 was sold to Sister Hawkins. She was already well-known to everyone in the Parish and had delivered most of the babies born here. Mention her name, and I would hear how sharp she was in insisting that there must be no screaming at all. Concentration must be on the baby - not hysterics!
For many years, she lived at Preston with her family. It was believed she had one sister as well as parent's when liviing there.
Before taking on her duties as a midwife for the Parish, she worked as Nurse at Clopton Hospital, which I believe was Clopton House which had been taken over as a War Hospital during the 1st World War. Thanks to my mother-in-law's desire to salvage anything that could be salvaged from dustbins and skips, when Sister Hawkins went into a Nursing Home and her house was cleared up, a lot of her stuff was put in a skip. My mother-in-law (Phyllis Salmon) saw some photo albums lying in them, so she smuggled them under her apron and took them back to her house.
After she died, I had the job of sorting out her stuff, and found these photo albums and some framed photos. Although it had the name 'Hawkins' on the photo albums, there was no record of who these children were in the albums, (for they were mostly of children and young people), dressed in velvet and lace, and knee breeches and caps. The framed photos were all of of soldiers of the 1st World War in their respective units. So I assumed that, before the 1st World War she was possibly a Nurse/Nanny in some wealthy home in charge of the children.
However, from that collection of photos, I rescued two - which I have before me now. One is a young lad about 13 I would think, sitting on a metal garden chair, shiny with black paint (evidently a new one!) in a garden with a large sash window with draped lace curtains, in the background. His thick knee-socks are tucked into black smart shiny shoes.. His breeches come to just under the knee with a button on each leg fastening the material into the bands which are tight around each calf.. And an 'Andy cap' on his head. Oh yes, and he is wearing a smart waistcoat underneath his jacket which is fastened together with his top button. And he is smiling at the photographer quite happily.
The only reason I kept this photo, is because, on the back of this postcard it says under the words 'For communicaton', "To wish you a very merry Xmas and a bright New Year from John". But under the words 'For address only' are the words "Mrs. Hawkins, Preston on Stour, Stratford on Avon" I puzzled over the married title, but remembered that in a wealthy household, spinsters where always given a married title.
But it was the other photo - also printed on a postcard, that I was fascinated with. Two wounded soldiers both in Hospital suits, with the white lining of their jackets showing where they had undone the jacket's top buttons.. Both of them are sitting leisurely on a wooden two seater sofa with cane seat. One has his right arm in a sling, the other bandaging round his neck., and both have hair parted in the middle, and yes, moustaches. But on the back, in pencil, one of them has written their address as Clopton Hospital, Stratford-upon-Avon, and the message "Two rogues of Gibbins Ward - 'The Heavenly Twins' - Bob Hammond and Jumbo Belsey" - . and the message is "To our Dear Sister Hawkins, Clopton War Hospital, Stratford-on-Avon, Blighty"
So, it seems that, although she might have been rather harsh and snappy with mothers-to-be in birth pains, she was more compassionate with wounded soldiers.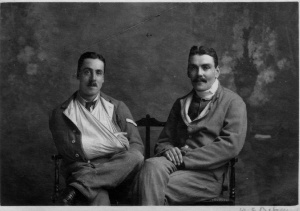 But, dealing with those mothers-to-be in this Parish, anxious fathers would have to either walk or cycle to Preston-on-Stour to summon her to the bedside of the future mother, and it seems she always arrived in time for the birth of all the babies. When Rev Pippet died, she lived for a while with Mrs. Pippet until buying No. 19, where she lived comfortably amongst the villagers, until she had to go into a Nursing Home.
When Mrs. Rees Mogg became an invalid, Sister Hawkins was often seen pushing Mrs. Rees Mogg along in her wheelchair, so the Lady of the Manor could inspect the village and make sure everything was happening as it should be.
She continued to live at No. 19 after Mrs. Rees Moggs' death but Lawrence can't remember her having many visitors. He only saw her when she did a spot of gardening in her front garden, but she didn't have much conversation to say to anyone who passed by. Mrs. Reese would say to her husband and daughter from time to time, "Oh, it's about time we had Sister Hawkins to tea again" - and both her husband and Angela (Wylam) would groan and say "Oh no! Not Sister Hawkins" for it was so hard to keep conversation going in a good and positive way.
By-the-way, the one notable thing about Nos. 18 and 19 - apart from the Manor - they were the very first houses to have flush toilets! Oh, what progress in those days!
Notes from Maisie Wilks
"When John and I married, we had two rooms at Sister Hawkins' house for a year. By this time. she was severely cripped with arthritis, and hardly ever went out. She had to sleep downstairs. I understand, from past villagers, that she was a tarter, but we got on well. She was a very aristocratic-looking lady, and her mind was very active. She did not suffer fools gladly. She kept cats, and my abiding memory was that the house always reecked of boiled fish for the cats. She was very frugal and the house was always cold. We had to cook on oil stoves, although there was a beautiful Triplex grate and oven in the kitchen. She only brought coal in for the fire in her room." Sister Hawkins from the memories of Judith Nedderman – The Rev Pippet's grand-daughter
"Sister Hawkins – Henrietta but usually called Hettie – was one of three sisters. Her oldest sister Ida joined, sometime through her life, The Sisters of Mercy and lived beyond her 100th birthday at Windsor. Throughout her life she often visited my mother (Monica – Rev Pippet's daughter) and father and me when we lived at Gaydon. On one occasion, a Doctor had to be summoned to attend her, and this Sister of Mercy pleaded with my mother to stay in the room with her, so she was not alone with a man!
Isabel, the other sister, spent some years, it is believed, as a Nanny in the USA before coming back to the UK where she lived in London.
One time though, during the 1st World War, she lived with her parents and her sister Hettie, at Preston-on-Stour. Throughout the rest of her life, she would regularly visit Sister Hawkins at the cottage in Clifford Chambers.
Sister Hettie Hawkins started nursing in the east-end of London where, at that time cholera was wide-spread. It is believed she caught it. One of the bad effects of cholera is a severe dry mouth which, if it isn't treated in time, can cause severe problems. Hettie's mouth, as a result, became distorted in some way. (Lawrence remembers that she had what seemed to be a hare lip).
One thing I remembered about Hattie was her passion for smoking!
My Mother (Monica Pippet) also worked at Clopton House looking after the wounded, as well as Sister Hawkins. We still use the casserole pyrex dish and lid given to us for our wedding in December 1962 by Isabel Hawkins. She lived then in Hampstead. We lived in Golders Green." Judith Nedderman – Australia