Church Clock
Jump to navigation
Jump to search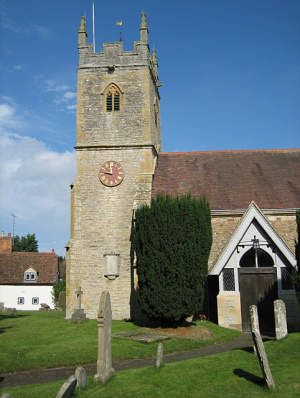 The present Church Clock was donated by the Rev Pippet; first of all on one side of the Church Tower. The chimes of the clock were first heard to strike the hour Christmas Day 1907. A few years later, two more sides of the clock were placed on the other two sides of the Church Tower
As the years went by, slowly old age crept into the mechanism. It was by now over 50 years old.

Extract of the Minutes of the Parochial Church Council
10th October 1956
Mr. Dodd was authorised to purchase a clock for the Church Tower
14th February 1957
Church clock
This had been out of order for several weeks. Much time and patience had been spent on it by M. J. Radbourne but it was of no avail. Mr. Dodd proposed that the Secretary should write to the makers so that repair work could be carried out when they were in the vicinity
27th June 1958
Church Clock
This had been repaired and was in good working order. Correspondence relating to repair of clock face was read. Any action was deferred until Dr. Bramwell had made further enquiries as to cost. The Church finances were not adequate enough just now for this extra expenditure.
26th March 1962
The Secretary was advised to write to Roisien & Whitestone (Architects) concerning the Church Clock which had been put out of order during the Church repair work
15th March 1966
Messrs. Smiths had been asked to inspect and report to the Rector. For dismantling, cleaning and putting the clock in working order, they quoted £65 and suggested that the PCC agreed to a maintenance contract at a cost of £6:10:0d p.a. It was unanimously agreed that the work should be put in hand and the maintenance contract to be accepted.
28th March 196?????
After discussion, it was agreed that Dr. Bramwell send a letter to the villagers asking for support towards the cost of repairing the clock.
3rd August 196?
Dr. Bramwell was congratulated on his splendid effort in raising the cost of the clock. An anonymous gift of £70 had been received and it was left that the finance committee should invest this sum in an endeavour to maintain further payments of the repair contract
30th July 1982
Striking mechanism gone wrong, and found to need quite a bit of work done. Derby people to send estimate. Also to quote for electric mechanism at same time.
3rd November 1982
The repair of the Church Clock will cost £473 plus VAT. The insurance did not cover "accident" - damage only, fire and weather damage. Miss James had kindly donated the repair cost in memory of her Father's mother. She was thanked from the chair on behalf of us all.