Parish Magazine April 1930
Jump to navigation
Jump to search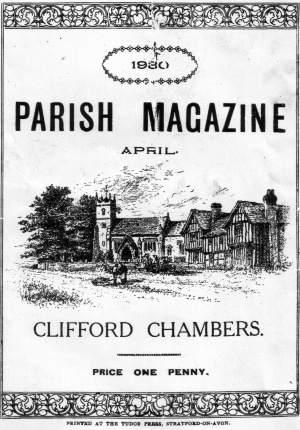 The Rectory
Clifford Chambers

My dear Friends,
This has been a sad month, both for our Church and Parish, owing to the death of two who have been both well-known and highly respected by everyone with whom they came in contact. The Rev W. A. Pippet, for 23 years from 1895 to 1918, was Rector of the Parish, where he built up strong foundation of Church tradition. Of his ministry among you, one who was Church Warden for many years is better able to speak and is kindly contributing to this Magazine. I am sure, from end to end of the parish, our deepest sympathy goes out to Mrs. Pippet and Mrs. Boultbee in their grief.
The other sad loss had come by the death of Mr. Enoch Lively, after a long and painful illness. Mr. Lively was a Bell Ringer for some 43 years and a most regular worshipper at our Church. He set just the kind of example that is most valuable, and we shall sorely miss him. We all most deeply sympathise with Mrs. Lively and her family.
I hope before the Confirmation on April 2nd that you will have received your Magazine, for how anxious we all must be to help and encourage those who are to be confirmed, both by our Prayers and example, that they may be both faithful and loyal to Christ and His Church. I might say that I have seldom prepared Candidates who on the whole have shown keener interest and real earnestness about this most important step in their lives. I appeal most earnestly that they should not find their first difficulty in their own home by lack of encouragement and help. Bishop Palmer, of Bombay, is coming for our Bishop, and I trust that both parents and God-parents will try their very best to be present, as it means so much to the Candidates.
The times of the Holy Week and Easter Services are printed below, and any unable to make their Easter Communion, owing to illness, have only to let me know as soon as possible, when I will most gladly arrange to take them the Sacrament.
The Church Council have arranged for the Annual Vestry and Parochial Church Meetings to be held in the Schools on Monday, April 26th at 7.30pm. Every adult member of the Church of 18 years and over, should see that their names are on the Electoral Roll of the Parish, a copy of which can be seen hanging in the Church Porch. So you will be able to find if your name is already on or not. If it is not on, please ask the Secretary of the Council (Mrs. Metters); the Churchwardens; or one of the Sidesmen, and they will provide you with a form to fill in. It is most important that everyone who wants to be considered a Parishioner should be on this Roll, and make it a point of duty to attend the Annual Meeting. I have been much surprised the last two years to notice many, even of our regular worshippers at Church, not being present at this Annual Meeting. Surely this cannot show, on their part, much vital interest in the welfare of their Church. Our Schools should be quite full on this occasion. With every kind wish to you all for a very Happy Easter.
Believe me
Your affectionate friend and Rector
F. MERIDYTH BROOKES
HOLY WEEK AND EASTER
Holy week - Holy Communion, Tuesday and 
 Thursday, 8.30 
 7.30 Evensong and Reading, 
	 Daily
Maundy Thursday
	 Special Service of Preparation
	 For our Easter Communion 
	 7.30
Good Friday 11.am Matins and Ante 
	 Communion
	 1.30 – 3 Devotional Service 
	 with Words from the Cross
	 7.30 Mission Service
Easter Sunday 7.30 Holy Communion
	 8.30 Holy Communion
	 11. Matins; 11.45 Holy 
	 Communion
	 6.30 Evensong

BURIAL
"I am the Resurrection and the Life" saith the Lord.
March 12th Enoch Lively aged 64 years
March 22nd William Archibald Pippet aged 77
March 27th Francis Henry Hodgson aged 81 years (at Stratford)

JUMBLE SALE
The Annual Jumble Sale, in aid of the Working Party, will be held in the Schools on Saturday April 5th at 6.pm admission 2d. Any gifts 
of Jumble will be very gladly received at the Schools on the morning of the Sale at 10 o'clock.

	CONFIRMATION CANDIDATES
The following are hoping to be Confirmed on April 2nd – Boys Ronald Robbins, William Bennett, Frederick Long, Harry Smith, Alfred Long,
Dennis Beesley, Geoffrey Hewins. Derick Giles, Walter Smith, Victor Radbourne, Stanley Hastie, Arthur Radbourne, Walter Radbourne, 
Girls – Audrey Horler, Dorothy Steele, Kathleen Salmon, Grace Radbourne, Evelyn Smith.

THE REV W. A. PIPPET
	The Rector has asked me to write a short article for the Magazine having been Churchwarden during the Rectorship of William 
Archibald Pippet for 11 years, 8 of which were more closely associated with him as Rector's Warden.
	William Archibald Pippet carried but all the duties of a Pastor conscientiously in every way, being ever ready in times of 
trouble to give advice and help. He impressed upon us not only the leading of a Christian Life, but also very frequently the duty of
attempting by our work, walk, conversation, and example, to leave the world better than we found it, which was fully and fairly 
exemplified by his own conduct as a true follower of the Master.
	A work he took especial interest in was the re-introduction of a Church Clock, which was put in with a South face and began 
to strike the hours on Christmas Day 1907. The North and West faces were added in 1911 in remembrance of the Coronation of King 
George V and Queen Mary.
	The brass Ewer and Bowl; in use for Holy Baptism were designed by Mr. Pippet, and presented to the Church by the family of 
Sidney Smith, in 1909.
	The Episcopal Chair in the Sanctuary was designed and presented by Mr. Pippet in 1911. This chair was made by the Campden 
Guild.
	The beautiful East window was given to the Church by Mr. Pippet in 1899, in loving memory of his parents, George and Eliza 
Pippet.
	The Small window of stained glass in the nave (part of Campden Glass) was given by Mr. Pippet, in memory of Richard Sidney 
Smith, who died in 1905, having been Churchwarden for 25 years.
	William Archibald Pippet was an outstanding teetotaller, and in this was a great example for the temperance cause, but he 
was not at all bigotted in the matter, and like St. Paul would allow wine for the stomach's sake. Neither was he narrow-minded with 
regard to other forms of worship as the laying of a stone by him at the building of the Chapel in Campden Road testifies.
	Of the great work at the School accomplished by Mr. Pippet as Chairman of School Managers and Official Correspondent for the 
School, together with Miss Wilding, as Teacher, it is almost impossible to estimate; but it has been acknowledged very freely by 
The County Secretary for Education to be one of the best schools in Gloucestershire for the training of the young, one strong 
evidence of which is that all the young men of the parish who returned from the War went straight back to work (no dole for them).
	The influence such a character of upstanding rectitude among us has had for good cannot be estimated and out into words,; 
at least I find myself inadequate to do so.
		J.E.B.

THE REV, F, H, HODGSON

	Little did I think when I wrote my letter yesterday for the Magazine, in which I recorded the death of a previous Rector 
of the parish, that I should hear so soon of the sudden death of the Rev. F. H.Hodgson.
It must be very seldom that any parish loses two of its late Rectors in less than a week.
	Mr. Hodgson became Rector of Clifford Chambers on the resignation of Mr. Pippet in 1918, and for a time was Rural Dean of 
Campden. In 1927 Mr. Hodgson decided to resign the Living on account of his age and health. His decision was met with universal 
regret, for during the nine years that he was Rector he endeared himself to everyone by his kindness and courtesy.
	From the time I contemplated trying to fill his place as your Rector, I received nothing but kindness and encouragement 
from him. I therefore feel it a great privilege to be able, with you, to share the great sorrow that has come to the whole Parish 
by the death of one who was such a dear friend.
	To me he was my ideal of a true Christian gentleman, and one who radiated the happiness of the Faith that was his.
	We extend our deepest sympathy to the Hon. Mrs. Hodgson and the family in their bereavement.

SIDESMEN ON DUTY

April 6th
8.30 Mr. Tustain 6.30 Mr. Baxter
		 Mr. Green
April 13th
8.30 Mr. Baxter 6.30 Mr. Hogg
		 Mr. Tustain
April 20th
7.30 Mr. Green
8.30 Mr. Tustain 6.30 Mr. Baxter
		 Mr. Green
April 27th
8.30 Mr. Hogg 6.30 Mr. Tustain
		 Mr. Hogg
May 4th
8.30 Mr. Tustain 6.30 Mr. Baxter
		 Mr. Green

HYMNS
April 6th (Morning) 773, 317
 	(Evening) 107, 187, 776
April 13th(Morning) 98, 99, 108
	(Evening) 98, 112
April 20th (Morning) 134, 136, 137
	(Evening) 134, Anthem, 135, 138
April 27th (Morning) 135, 140, 504
	(Evening) 136, 137, 125

COLLECTIONS
Mar 2nd 		£ s d 
Sick and Poor		2 19 4
Church Property Fund 	1 12 6
Mar 9th
Sick and Poor		1 5 8
Bishop's Appeal Fund	4 5 5
Mar 16th
Sick and Poor		1 6 0
Church Expenses		3 16 10
Mar 23rd
Sick and Poor		1 5 9
Church Pro. Repair Fund	4 3 2


	TOTAL	 £20 14 8