Red Hill House
Jump to navigation
Jump to search
RED HILL HOUSE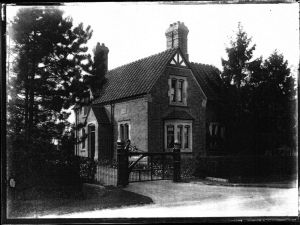 There has been an amusing rumour around in the village throughout last Century and into this – that when the Rev William Archibald Pippet inspected his future living, his wife who was with him, disliked travelling past the common villagers on the way to Church. So she requested a house a reasonable distance from the village and a separate drive placed in the field along the back of the houses; this drive coming out onto the village street between the Rectory and Manor Cottages.
This might be right! But the reason why this impressive house with its large rooms and high ceilings was built on the other side of Campden Road with a good view over the countryside (instead of the Pippet family making their home at The Rectory) - was simply because The Rectory was owned, not by the Church but, presumably, the Annesley family.
The living and Rectory was under a squarson. This is the terminology used in the Church for when a building is owned by a landed proprietor who is also a clergyman of the Church of England – the origin - a blend of Squire and Parson.
Moreover The Rectory had tenants in it. It is thought that the Bishop of Gloucester gave this living to the Rev Pippet because he was reasonably 'well off' and could build his own home.
Church St Helen's Church Rev Pippet
And what a magnificent home it was. If ever you are invited into it by any of the present tenants, and are able to inspect what was once Rev Pippet's bedroom, you wonder however he filled it! There is room enough in it for two four-poster beds plus about three large wardrobes and other furniture!
Each large room has such high ceilings, one can only imagine how cold it must have been in winter, despite fires. Their living room was to the left of their front door as one faced the building, with Rev Pippet's bedroom above that. Their dining room was to the right of the front door, and it was in that room, that the children of the Parish came each Sunday afternoon in their starched collars and cuffs clambering up the steep drive for Sunday School with Miss Monica Pippet..
Clifford Chambers in the 1910's Drive to Red Hill House
The Rev Pippet had his curacy at Stonehouse, Gloucestershire, and there married his wife, and while curate, they were blessed with the birth of a little girl, Monica born 1892 .
Mrs. Mary Ann Pippet came from Street in Somerset, with relatives up north. However two of her sisters married and settled in Stratford-upon-Avon. Celia met and married William Adam and lived at Bringewood, Banbury Road, Stratford-upon-Avon. Liza, the other sister married Carl – and Carl had a brother who served under Rev Pippet - which is maybe how Rev Pippet met his future wife!
Church St Helen's Church Mrs. Mary Ann Pippet
Once settled in Red Hill House, Celia and Liza often called with their children, and Monica enjoyed the company of her cousins, Frances, Kingston, Cicely, and Dorothy – children of Celia and William Adam.
(There has always been a rumour that Mrs. Pippet was related to the Winter family, but it was Dorothy, Monica's cousin, who was. She married Eric Winter, and their children were Brian who lives at Honington, and Heather (now Ferguson) who lives at Loxley. There was a rumour that the shop 'Winters' was closing down, but at the time of this web site, the shop is still going strong and still run by the family – and long may it do so!).
Carl and Liza's children were Gerald and Bruce and they were VERY close to Monica – boys with their daring and mischievous games can be quite appealing to a lonely girl living in a large house with no friends nearby.
For Monica had a very lonely childhood in Red Hill House– in fact lonely teen years also and into womanhood. She was not allowed to go to school – her father taught her everything, but whether he taught her Latin, Greek and Hebrew also, is uncertain! Each day, for as long as she could remember, she had to lie flat on the floor every afternoon for a rest! And he was so strict, she didn't ever dare to ask for a toilet break during her long lessons.
As she became older she had a few governesses teaching her subjects that her father possibly felt was more suitable to be taught by women. These governesses it is believed came from The Manor where they were teaching children there. This would be in the days of course, before Mr and Mrs. Douty arrived at the Manor.
Mrs Douty was a great friend of Mrs. Pippet and in particular, of Monica. In fact she and Monica travelled in 1923 to London for the wedding of the then Princess Royal (Princess Mary) to Lord Harewood, and they both had a wonderful time. The Pippet family found Dr Douty a lovely man, and thought the couple were just right for each other. They were not happy with Mrs. Douty's second husband; in fact, from then on Monica usually referred to her friend as KRM when talking about her.
Monica was taught the piano at a very early age, and then the organ, taking lessons at Stratford Parish Church, and while still young, took on the choir at St. Helen's Church here, playing the organ to their singing. She was so young, her legs didn't properly reach the organ pedals, but she struggled to play them as she had been taught.
It was not good. She was playing before her body was properly developed and throughout the rest of her life, she suffered with her hip because of the struggles she had, to play the organ in a way that would satisfy her father.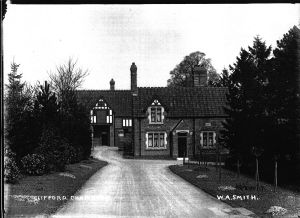 Clifford Chambers in the 1910's Monica Pippet
As well as family often visiting, Mrs Mary Ann Pippet made many local friends – one being Ursular Bloom whose father was Vicar of Atherstone, and she came often to visit them. Other constant visitors were Hettie Hawkins a Nurse living in Clifford, her sister Isabel, and another sister Ida who was a Nun. They all knew many well-known people, and name-dropping was constantly happening in their conversation – in an interesting way of course. They made, of course, many visits to The Manor..
The Pippet family had a coachman – and of course coach and horses, the coachman being Bert Gardner always in a rather grand uniform, though it is not certain if he lived in the coachman's house at the time, but the coach and horses were certainly kept in the coachhouse (now a home) when not needed.
Homes and Buildings Red Hill Lodge 1910
As Monica approached her teens, her father was giving both her and her mother problems. Things were not right! From about 1915 onwards, it was noticed that he would forget things. Monica, sitting at the organ for Sunday services, had to be very alert. As soon as her father started stumbling over words and coming out with strange phrases, she would play an "Amen" on the organ or, if a longer time was needed for her father to recover, a hymn. With the choir singing loudly, the Rev Pippet was able to recover to carry on with the service.
Within a few years, he seemed to lose his mind altogether. Monica could remember clearly throughout the rest of her life, of his demand made very seriously, that she should go to the village shop and ask for Pigeon's Milk and Elbow Grease. And she had to do it. She did not dare not to.
At the age of 29 Monica married and was released from her very sheltered and hard life, into the world of being a Curate's wife. The Rev Boultbee was a curate at Stratford-upon-Avon Church (perhaps Monica met him while having organ lessons!) and also was Vicar at Bishopton. They married in 1921 where he took on Shottery and lived in the Parsonage there.. Judith,their only child, can remember going to Red Hill House on many occasions for their Garden Parties, but her Grandfather by then was in what she referred to as "no man's land". KRM (just called Kathleen by Monica) gave both mother and young daughter many gifts of jewellery and Judith now living in Australia treasures them all, along with the memories that came with them..
One of Rev Pippet's hobbies was photography, and in Warwick Records Office are beautiful glass slide transparencies taken by Rev Pippet for anyone to inspect. However, he made no record of just who his subjects were, so a lot of history has gone in this way. .Rev Pippet died on 18th March 1930, and his widow stayed in the house for a while with Sister Hawkins to keep her company.. She died in 1946, and then Red Hill house was sold to Mrs. Loxton – made into two houses side by side – then into five flats. The house itself went for a very small price, at the time it was sold to Mrs,. Loxton..
And the beautifully kept drive and gardens are hard to find amongst the tangled ivy and other creepers that have taken over – but the view is still just as magnificent as before.