Tenants at No 13
Jump to navigation
Jump to search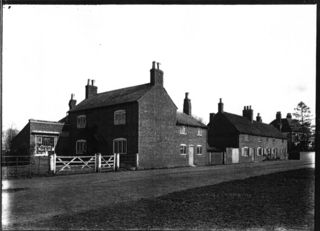 No. 13 a two up and two down small cottage with just a yard to look after, was an ideal place for Mrs. Rees-Mogg, the owner of most of the village - and the Parish - to place an elderly person there, to make room for a larger family to move into the larger house where the elderly person had been living.
This is what happened to old Mrs. Coldicott at No. 28 - though I don't think it was Mrs. Rees-Mogg - or Mrs. Douty as she was first known - who arranged it. I think that it was possibly the family, who asked if she could be moved there. Mrs. Coldicott was a very unkind woman, snapping at all her children; quarrelling with them when they were adults to the extent that, one day after a fierce argument with one of her adult daughters, she sought out all the photos of her children (and there weren't many in those days), tore them up and put them on the fire! A very difficult woman for her son and daughter-in-law and their children, to live with. And her daughter-in-law, Amy, was a very gentle and loving person too, the sort of daughter-in-law any woman would want to have.
Lawrence's Auntie Kath Salmon remembered, as a little girl playing in the recreation ground, waving to her mother, (one of the daughters of Mrs. Coldicott) as she walked past on the way to visit her mother at No. 13. A little while later, she saw her mother return with a very red face, taking no notice of her little daughter, but ran all the way home, and Kath could hear her crying.
Len Salmon, coming back from Seth Smith's orchards where he had been scrumping one day, heard his grandmother screech at him as he came near to No. 13. "I knows what yer've bin up to. And I'll have the police onto yer!" Len tore down the village street back to Manor Cottage with the apple he had scumped, feeling like a ton weight in his pocket, wondering how his grandmother could see, from her bedroom window at No. 13, over all the gardens and roofs of houses to the orchard where he had pinched the apple. "She had eyes everywhere", he told me when relating this story, "She missed nothing!"
The next elderly lady to move into No. 13, was Mrs. Betteridge from The Rectory. The Rev Pippet, who during his work in Holy Orders in the Parish, lived at Red Hill House, had died; with his widow and daughter remaining at Red Hill House. A new Rector was to come to the Parish and live at The Rectory, Canon Brookes. So all the tenants would have had to move out, to make room for him, his wife and twin sons, and that was why Mrs. Betteridge (the middle tenant of the Rectory) came to move into No. 13.
Every one loved Mrs. Betteridge, and the Parish grieved terribly at the way she died. She had fallen down the stairs, early morning, and any calls for help were not heard. Harold Mole found her late afternoon. He opened her back door to get her milk jug to fill (he was milkman at the time) and found her lying at the foot of the stairs unconscious. She never recovered.
At the time of the Auction Sale of the Manor and the Estate of Mrs. Rees-Mogg, in June 1951, the tenant of No. 13 was Walter Radbourne who, I believe was married at that time. An orchard went with this little cottage, so the rent for this was enormous compared to others. The rent of our cottage No. 14 with quite a large garden, was £7. 4s. 0-d per annum. No. 13's with orchard was £15. 12s. 0d. I think I am right in saying that the house at the back of No. 13, Hampton Cottage, was built on the orchard, with the large drive being part of the orchard too.
Walter and his wife, had a fair-sized family for a little two up and two down cottage, Patricia, Eileen, and Phillipa. They must have been bursting at the seams! They later moved to The Nashes.
When I arrived in the village, Jim Ashfield, who owned the village shop No. 12, had bought No. 13. One of his hobbies, along with keeping the village shop, and delivering milk, was renovating old cottages! He told me that, while he was working at No. 13, the then Rector, Rev Leonard-Williams (who had been an architect before taking Holy Orders) called in, to have a chat. He knocked the wall surrounding a small fireplace, for a bit, and then told Jim that he thought he had, behind the plaster and what-ever, an ingle-nook fireplace. "And we banged around a bit" he told me. "And he was right. Come in and have a look." I went in, and it was (and still is) a beautiful old fireplace, but I do not know what sort of fireplace it had been beforehand with all the elderly tenants living and dying in that cottage.
I think Miss Turner bought it from Jim, but as she had a tendency to flit from one house to another, selling and buying, she did not stay long. Another owner came along, and from then on, it seemed to be rented out to a succession of people.