Tenants at No 28
Jump to navigation
Jump to search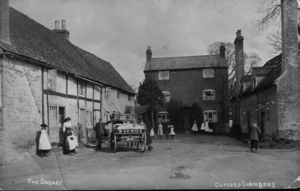 The three-storey house now called "Churchside" was, according to records, built in 1740 on the orders of Francis Keyt-Dighton who paid Mumford the Mason £2: 4s 2d (£2 for brickwork and the rest for tiling it!) It was kept as a Public House sometime during the 1800's by a Mr. Spilsbury and was known as "Spilsbury's" after his death in 1846, when a Mr. Houghton took over.
When I arrived in the village, the older residents could only remember the Coldicott family. William Coldicott was a dear man, remembered with fondness by his grandchildren. His wife (Ann Blackwell before her marriage) struck terror into her children and grandchildren – and possibly her husband too! She quarrelled constantly with all her children once they became independent of her, and, at one time, was so enraged by one of them, she tore up all the photos of her children in her possession and burnt them!
Unbelievably, she had seven healthy children, though the oldest, George, died at the age of twenty one.
Ada Coldicott's Recipes and Wrinkles
One of her Ann Coldicott's daughters, Ada, married Diggie Salmon and as a young bride moved into No. 2 Manor Cottages, taking with her, her exercise book of her favourite recipes written in neat handwriting.
Ada Coldicott's Recipes and Wrinkles


December 13th 1898

Manchester Pudding

3 ozs grated bread - half-a-pint milk - 4 eggs - 2 ozs butter - 3 Tablespoonfuls of Brandy - a strip of Lemon Peel - Puff paste – jam - sugar to taste

Flavour the milk with Lemon peel then strain it on the breadcrumbs and boil it for 2 or 3 minutes, add the eggs, leaving out the whites of 2, the butter, sugar and brandy. Stir well, cover a pie dish with puff paste, put a thick layer of jam at the bottom, pour the above mixture cold on the jam, bake on hour, serve cold.

Never begin anything until you have collected all the materials.

Golden Pudding

half-a-pound of breadcrumbs - quarter pound of suet - quarter pound of marmalade or plum jam - quarter pound of sugar and 4 eggs

Put the bread crumbs into a basin mix with them the suet which should be finely minced, the marmalade and the sugar, stir all these ingredients well together, beat the eggs to a froth and mix all together, - if it is not sufficiently moist, use a little milk, put it into a mould, tie down with a floured cloth and boil 2 hours, serve with sifted sugar over top.

Gloucester Sandwiches

Break 4 eggs into a basin, add half-a-pound of castor sugar, put about 2 teaspoons of baking powder to half-a-pound of flour, and stir in slowly; pour into tins, and bake 20 minutes, spread raspberry jam between and icing on the top if required

Take a desert spoonful of cream of tartar – one lemon shred – 2 tablespoonfuls of sugar – one quart of boiling water. Strain.

Railway Pudding

1 teacup of flour – 1 teacupful of sugar - 1 teaspoon of baking powder - 1 egg - one and a half ozs of butter - a little grated lemon rind - and milk enough to make a stiff batter (half tea cup) - beat the butter with the sugar add flour and lemon rind egg and milk - and baking powder last. bake 20 minutes in a square dripping-tin buttered – moderate oven - turn out and put marmalade or jam on the top which has been previously warmed for a few minutes on the top of the oven – or cut in pieces,split and put jam between.

Preston cake

6 ozs of flour - 3 ozs caster sugar - 3 ozs butter - 1 egg - beat butter to a cream, then add sugar, egg, flour, make into flat biscuits, bake in a cool oven.

Too may cooks spoil the broth

Rice Blanc Mange

quarter pound of ground rice, a pint and a quarter of new milk - 2 ozs of loaf sugar – mix the rice in a quarter pint of new milk – boil the pint and whilst boiling pour it on the rice stirring it well – put all in a saucepan and boil 3 minutes – dip mould in cold water – pour in rice – turn out when cold and swerve with custard or jam

Prince of Wales Pudding

A layer of sponge cakes alternately with preserve (Apricot is best) until mould is full, pour over a little sherry or brandy (noyan) pour over a rich custard hot and turn out next day

A bowl of water put into the oven while baking will keep cakes and pastry from burning.

Grandmothers Pudding

1 lb of flour - 6 ozs dripping - quarter-pound sugar - 6 ozs plums - 1 egg mix stiff with milk - add teaspoonful of carbonate of soda last thing, Bake 20 minutes in a shallow tin.

Grandfathers Pudding

1 teacupful of flour - the same of brown sugar – and milk - 2 teaspoonfuls of baking powder – 2 ozs of butter or lard or 1 oz of each to be rubbed in the flour – 1 egg added to the milk before mixing the ingredients – rub the butter in the flour first – then mix altogether – bake 1 hour in a slow over.

Lady Peel's recipe for Drop Cakes

1 lb of flour - half-pound butter - half loaf sugar sifted - half-pound of currants - 4 eggs and white of 2 to be dropped on a tin and baked a light brown

Hazelwood Pudding

The weight of 2 eggs in flour – sugar – and butter - 3 tablespoonfuls of raspberry jam 2 teaspoonfuls of carbonate of soda - beat sugar and butter together – then add flour and eggs – then jam. Mix the soda with a very little water – put in basin which should not be quite full. Steam 1 hour. Serve with sweet sauce.

Sister Hood's Pudding

quarter pound flour - quarter-pound suet - 2 ozs sugar - 1 egg - 1 teaspoonful of baking powder – mix with a little milk and bake three-quarters of an hour. To be eaten hot.

Crystal Place Cream

Decorate a mould with glace cherries cut in halves or with any other fruit. Dissolve half an ounce of isingloss or best Gelatine in a pint and a half of milk – boil and sweeten to taste - flavour with vanilla - have ready the beaten yolk of three eggs - take the milk off the fire – add a little to the eggs – then carefully add them to the whole, being careful not to cook them without curdling - stir till nearly set then pour slowly into the mould.

Time for ducks or fowls – put in at a quarter past 11 for dinner at one

Wake Pudding

Fill a dish with slices of bread without the crust – then cover them with boiling milk - turn a dish over and let it soak for an hour or two - put in a basin and beat with a spoon or fork until reduced to a pulp - then add a little nutmeg – sugar to taste – 3 or 4 eggs (according to size of dish - a few currants and raisins – brandy to flavour - lay the fruit at the bottom of a well-buttered dish – bake one and a half hours slowly - good hot or cold.

Chocolate jelly

Take three-quarters of an oz of gelatine dissolved in a quart of milk – then add 4 large tablespoonfuls of grated chocolate and 1 oz of sugar - boil 10 minutes stirring all the time - when almost cold, beat well with an egg whisk - flavour with vanilla and pour into a mould - let it stand overnight - when ready to remove, turn out in a glass dish - stick with almonds and cover with whipped cream

Love Pudding

One quarter pint of milk - the whites of two eggs - one-and-a-half ounces best arrowroot - six sponge cakes and soak in sherry. Boil the milk and arrowroot and beat whites of eggs to a good froth. Then mix the whole together, and boil till quite thick. "Use a little Isinglass in summer time" Put in a mould previously lined with the sponge cakes. Pour over it a good custard. To be eaten cold.

Wrinkle Never trouble trouble till trouble troubles you.

Spiced beef
14lbs of the thick flank or rump of beef - half-pound of a coarse sugar - 1 oz of salt petre - quarter-pound of spice - 1lb of common salt - rub the sugar well into the beef and let it lay 12 hours - then rub salt petre and spice - let it remain another 12 hours - then rub in salt - turn daily in the liquor for a fortnight - soak it for a few hours in water - dry with a cloth - cover with a coarse paste - put a little water at the bottom of the pan – and bake in a moderate oven four hours - turn once or twice while in the oven

To pickle and dress Ox Tongue

Pickle 6 ozs common salt - 2 ozs boy salt - 1 oz salt petre - 3 ozs coarse sugar - cloves - mace and allspice to taste. Spices must be well pounded

Salad dressing



Yolk of an egg – 2 dessertfuls of castor sugar - 2 of vinegar - 1 of cream.
As for grandchildren, they were to be seen and not heard! And they had to be seen! She insisted on that! All her tiny grandchildren had to visit her and sit on stools quietly, not wriggling, while she looked at them as she talked – or argued – with their parents. Oh! How they hated visiting her!
Her long-suffering husband died almost at his post! His cobblers shop was at the back of No 28 along a passage which rested against the back of Nos 29 and 30. These, at that time, were two rather tumbledown cottages which eventually were pulled down in 1918. Suddenly, William was exposed to cold winds and he caught a bad cold which turned to pneumonia, and he died.
His son Frank, carried on the business and, as he and his wife Amy had a family to house, Ann had to move. She was placed in the much smaller cottage of No. 13. Even then, she kept a watchful eye on her family. "I saw you," she shouted at grandson Len (Salmon) from her upstairs window. (Len was sneaking home in the twilight with some "scrumping" apples in his pocket.) "I saw you. I know what you've been up to, and you're not doing it again. No-one steals in my family. Do you hear?" But Len had shot off down the road out of earshot.
Meanwhile Frank and Amy (formerly Sarah Amelia Greenway from the other Mill) had settled in at No 28 with their two boys Ernie and George, and the income from cobbling was able to keep them well,. Amy regularly attended the Methodist Chapel and played the American organ there, kindly donated by the Church. She had her own harmonium in her house, and often people in The Square were entertained by the sound of Methodist hymns coming through the windows of No. 28. Frank also earned extra money delivering letters for the village and farms.
After Frank's death in 1955 aged 79, Ernie, although living there and looking after his mother, did not take up the cobblers business. He worked at the grain silos near Holy Trinity Church. George had married and left home. As Amy reached her eighties, Ernie felt it necessary to have someone call on her from time to time, while he was at work. Doreen fitted this job well. She was a District Nurse needing somewhere to live. No 28, having housed seven children at one time, had plenty of bedrooms, so Doreen moved in as a lodger and, at the same time, as Amy's Nurse. Amy died in 1972 at the age of 96. Ernie, her son died ten years later, and Doreen bought the house. However, romance blossomed for Doreen on a trip to Zimbabwe, and a few years later she sold the house and left England to marry a farmer and settle down there. From then on, there were what seemed to be a constant change of owners at No. 28.