Tenants at No 37
Jump to navigation
Jump to search
Enquiries about who lived in this cottage at the beginning of last Century have not been successful. I've had a succession of names, so it seems tenants did not stop there for long!
There was one family that stuck in people's memories. During the 2nd World War, amongst the crowd of children who had arrived as evacuees from Coventry and Birmingham, were 13 from one family! Fortunately No 37 was empty at that time – and fortunately the children had brought their mother with them! So the family were housed there – 14 people living in a "2 up 2 down" cottage with a toilet down the bottom of the garden; and the garden was reached by a long footpath going past the front doors of 6 houses! The main room downstairs contained a large round table that took up most of the room, and with 14 to sit around it, each meal was taken in two sittings. The kitchen, a long and very narrow room, must have been a scene of chaos each mealtime, where dirty crockery was taken in while food for the next sitting was being taken out!
Not surprisingly, the villagers knew little about the family. The children attended school, but their mother had little chance to make friends in the village with 13 children to look after, and the older children, as soon as school finished, were required in the home to help.
Lawrence can remember one couple who lived in No 37. They owned a Ford Austin and a cat, who was summoned each day to his evening meal about 7.00pm without fail. The summons consisted of a tin plate being hit violently with a spoon, and this sound could be heard quite clearly in the middle of Evensong each Sunday!
Lilian McGregor (commonly known as "Mac")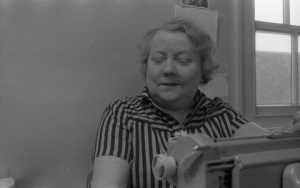 In the 1970's, Mac arrived at the cottage. Lillian McGregor was her official.name, but she just wanted to be thought of as Mac. From early childhood (spent in Birmingham) she had a dream of living in a cottage in a little village in the country. It wasn't until her surviving parent died, that she was at last free to search for her dream. She started off at Stratford-upon-Avon in a small flat above offices.
Then she heard that I was vacating No 37 as tenant and purchasing No 30. I made arrangements with my landlady and, as I moved out, Mac moved in!
The first thing Mac did, was to buy a kitten and a puppy – for that was another part of her dream. Never having had a pet of her own, she had no idea what she was letting herself in for, and certainly had little knowledge of how to look after them. The puppy only lasted one night! The next morning, the puppy was packed off to its original home. Mac was so entranced at the way the tiny kitten (with one enormous spit and a whack of a tiny paw, armed with vicious claws) sent the puppy quivering to the other end of the room, that she decided to keep him and call him "Leo the Lion"!
Once the puppy had gone, Leo got the doggy treatment! Twice a day – sometimes three times a day – Mac would fasten Leo's lead to his collar and take him for a walk down to the river and back. All the rest of each day, Leo was kept in. Once – about a year after he arrived – Leo managed to escape and was found by the search-party organized by an almost-hysterical Mac, cowering in the corner of someone's garden, trembling fearfully, not quite sure what he was supposed to do in this big outdoors without his lead and his mistress at the end of it!
Mac loved the village and it's people passionately, and joined in everything going on, wanting to be a part of the community. Having been brought up to believe that ladies of good repute never went into a Public House, she avoided, for the most part that environment of village entertainment!
Drama was her forte! She was our Dame Margaret Rutherford, and every drama festival the WI entered, although our group usually finished up with low marks, she always received praise from the Adjudicators for her acting skills.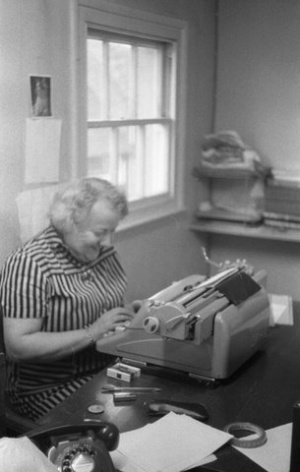 Mac felt she was in Paradise here in Clifford, and every day she was glowing with the excitement of her new life in this beautiful 'heaven' around her. Even when she was struck with the terrible blinding pain of a stroke, she still felt exhilaration at being surrounded by so much beauty. The stroke had left her slightly paralysed one side of her face. That was the only ugliness she felt in her life and tried to cover up that side of her face whenever she went out.
But she still joined in our village activities. One celebration involved the drama group, and the whole day was a rip-roaring success – with additions from Mac! Forgetting that the drugs she was taking came with a warning that no alcohol should be taken, Mac swallowed down some champagne as a celebration of their drama success. She could remember queuing in the car park of Clifford Club for a barbeque and roll. After that, her mind was blank. The villagers however, for the next few weeks, never stopped telling her of her antics, and these were still talked and laughed about a year later. The main case of laughter was that Mac, taking her evening cloak off the peg in the village hall cloakroom, omitted to remove the coathanger. Somehow she managed to drape the cloak around her shoulders with the coathanger sticking out underneath the material while she whirled around the Hall as everyone danced the night away, looking like some mishapen being made by Count Dracular!
There was one final village outing – the Over 60's! Mac went to bed the night before, looking forward with excitement to the outing which was to start early morning, the bus arriving at The Square to pick up members living at that end of the village. Next morning, no Mac appeared, despite her friends banging on the door and calling up at her bedroom window. The police were called. Mac's bedroom window was open a little. A ladder was brought. The officer crawled in through the bedroom window, and a little later the front door opened and he appeared asking if anyone was willing to identify Mac's body. Death had come very quickly to Mac. She had felt unwell during the night, left her bed and went into the bathroom –and was gone! It was a very sad group that clambered onto the bus that had been waiting patiently in The Square. The members all felt it was necessary to go on the Outing, for Mac would never have wanted any village activities to be cancelled because of her.
Mac's life, until she arrived here, had not been happy. Demanding parents whom she could not leave, made her feel, as the years slipped by, a prisoner in her own home. Her fiance, who offered her a chance of escape, was shot to pieces as he was parachuted over France. There was no funeral and no grave for her to grieve over. It was years before Mac was able to accept that he would never come back, as, for a few years after the War had finished, relatives who were announced by the War Office "missing presumed dead", were turning up having lost their memories for a long period of time. Throughout it all, her sense of humour never left her. Her conversation was always stimulating, fascinating and frequently hilarious.
The few friends she had made from her past, often came to see her including one from the Secret Service. Mac was never allowed to tell us what they spoke about and rigidly never disclosed his name however much we teased her. Her years spent in the Civil Service during the War and after, had given her good discipline over this.
Knowing her and knowing a little of her previous life, we were all so glad that Mac spent the last years of her life blissfully happy in a 'Paradise' that she had, for years, dreamt of and longed for, for many years. My regret was that I was unable to join those of us who loved her, who had packed themselves in our Church to say goodbye to her. I was in hospital where my very ill 2 yr old son was fighting for his life. That week, I not only lost my son, but my best friend also. It was something that Mac would never have wanted, for in this village where she was so happy, she just desired everyone else to be happy too.