Village Shop - No 12
Jump to navigation
Jump to search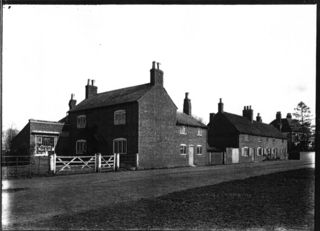 Those in our village who can remember, think with nostalgia of our village shop. Jim and Mary Ashfield were running it when I arrived, but most of the people in the village at that time, could remember Cyril Rouse being in charge, and quite a few could remember the Malins sisters who were there before Cyril.
The Malin sisters' mother was Ann Holton, the youngest child of Thomas and Sophia Salmon (yes another part of the Salmon family!) Thomas and Sophia came from Preston, and married at Preston Church on 29th November 1821. Thomas was living at Preston-on-Stour with his parents, but working as a farm worker at Clifford. When he married Sophia, his employer rented to them, a cottage somewhere in the village. Their oldest son George, was the grandfather of two of our well-known Cliffordians, May Huckvale and Marjorie Tustain. Another son Thomas was the father of Diggie Salmon, grandfather to Len and Kath, and great grandfather to Lawrence - only he had died long before Lawrence was born. In fact long before Len was born too, for he died when Diggie was only a lad.
But Ann was special. For one thing she was the only girl from this family. The other was that she was what one would call 'an accident' though I refer to them as 'God-planned' babies. Much nicer! All the other children came in two year gaps, but there was a six year gap in between the youngest son and Ann's arrival.
Ann married Thomas Malins from Stratford, and, sometime during their married life, settled in at the shop. They had four children, the first being twins, Clara and William, but William died five days after his birth. Three years later, Ellen turned up and then, finally, four years later John arrived. John died at the age of ten months. Although they couldn't manage a gravestone for little William, by the time John died in 1882, things had prospered well enough for Thomas and Ann to financially manage a gravestone for little John, and his gravestone is right beside his grandad's in our Churchyard.
After her husband's death, Ann carried on with the shop with the help of her daughters. People remember her as a thin woman, beautifully dressed and wearing a black velvet ribbon around her throat.
After their mother's death, Clara and Ellen kept the shop - or rather Ellen did. These two sisters were a vast contrast - Ellen as smart as a bandbox with cheeks heavily rouged and plenty of lipstick - but Clara! Oh Clara! The expression I've heard about her, was that she was 'black as soot'! "It looked," said someone to me, "as if she was continually blacking the grate and not bothering to wash between times."
Ellen was very particular whom she served. "You're not a regular customer," she would say haughtily to a villager known to have shopped elsewhere. When cigarettes were in short supply, she refused many customers whom she suspected of going to other shops. "We haven't got any" she would remark in the refined way she kept for customers. "You're not a regular customer."
However, Clara was very generous, and she would be lurking in the background. As the unfortunate customer left the shop empty-handed, she would sidle up to him/her, and out of a filthy pocket would produce a couple of cigarettes in a grimy hand. "Here you are," she would whisper. "Take these." She would also take sticky, dirty sweets from her pocket and hand them to a young mother with the words, "Here - take these for the children." People liked Clara, but most of the grubby items finished up in the dustbin.
Ellen kept sweets in 7 1b jars in a shop that was not always clean. A paraffin stove glowed red against a wall with loads of newspapers stacked either side. It certainly wouldn't pass the hygiene or safety standards of today.
Ellen had a side-line. She wrote stories for magazines, and even won prizes for her writing. She regularly attended evening services every Sunday, her plump body encased in a cream coat adorned with a cream hat, but it was her red lips and rouged cheeks that stood out more than anything.
Eventually, the two sisters made an exchange of houses, with Cyril Rouse, and went to live in The Square. Neville Smith and his wife had just moved into the village, when the sisters left the Village Shop, with their neighbours and friends at their request, throwing out of the window onto a cart below, all the stuff the sisters did not want to take with them.
Neville Smith, a lover of old things, saw beautiful Victorian enamel-casing-with-velvet-back photo albums being thrown out to join the junk below. He longed to go to them and ask if he could have them, but being a newcomer, he felt it was not right to do so. Years later, when he told me of this, he was still full of regrets that he did not rescue those photo albums. And I am too, for we have now no record in our History album of how these sisters, their parents, and their grandparents looked.
Ellen, with no shop to look after, found herself with nothing to do but just sit; and not long after, she died, leaving Clara on her own. Clara, with her little thin body, still with no idea of cleanliness, was sent to a nursing home.