War Memorial
Jump to navigation
Jump to search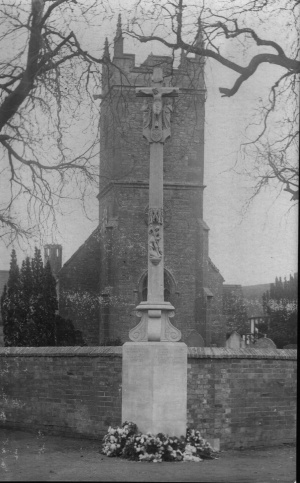 Our Sixteen Boys
And others mentioned on the gravestones in the Churchyard who gave their lives for their country
Those Who Fell in the First World War
John Milton James Private 171
(From the War Graves Commission Records)
A Company 16th Battalion Royal Warwickshire Regiment
Architect and Surveyor
Died Sunday 26th January 1916 aged 30 – buried Frcourt Somme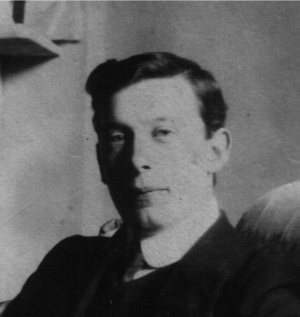 From the Stratford-upon-Avon Herald dated February 1916:

"On the 26th ult. killed in France John Milton James 16th Royal Warwicks

elder son of John James of Whitchurch

John Milton James (known by his family as Milton) was the eldest son of John James who came from Whitchurch to live in Orchard House, Clifford Chambers.

Milton attended the Commercial School in Greenhill Street, and on leaving, became articled to Messrs. Wilde & Fry, Architects of Weston-Super-Mare for 5 years. He then had a Government appointment at Bristol dealing with structural alterations of Post Offices and Municipal Buildings in West England. From there, he found work with Messrs. Hall & Stevenson, Land Agents and Surveyors of Shrewsbury. For the two years before the 1st World War, he was Assistant Agent on the estate of the Earl of Harrowby of Sandon Park, Staffs. He was offered work by the Board of Works in Ceylon, but declined, feeling the need to serve his Country

He was one of the first to enlist at the Birmingham Battalion. Lance Cpl. Horseman reported to his parents, "On the evening of the 26th January, we came off duty and were asleep in our dug-out when a shell burst, killing him and two others instantaneously and injuring seven. We had a very high opinion of him, for he always showed great willingness and very valuable intelligence in everything he had to do. The granting of his Commission which was to have gone through in a few

days now, would have given us a very useful Officer."
(Inscription on the grave of Alan Maxwell James (brother of Milton) and his wife Alice in Clifford Chambers Churchyard:- "William Leslie James RAF Volunteer Reserves the beloved son of the above missing from air operations March 3rd 1945 aged 23 years)
Raymond George Salmon Private 1011
(From the War Graves Commission Records)
D Company 16th Battalion Royal Warwickshire Regiment
Died Monday 10th April 1916 aged 22 buried at Arras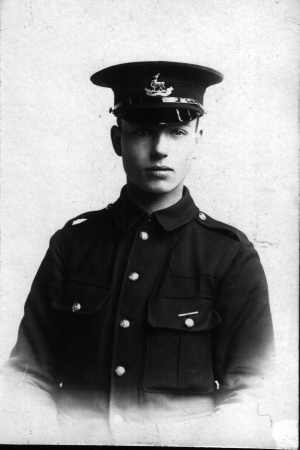 Photo:Village Family:Salmon Family: Raymond Salmon
Raymond George Salmon was the eldest son of John and Fanny Salmon; brother of May Huckvale, Percy Salmon and Margery Tustain; grandson of Daniel and Ann Woodward
From the Stratford-upon-Avon Herald dated 5th May 1916

The late Private R. G. Salmon – enlisted in Birmingham son of John and Fanny Salmon

– Cemetery; Faubourg D'Amiens Cemetery, Arras

The death (killed in action) of Private R. G. Salmon Royal Warwickshire 3rd City Battalion. Writing to his parents, Mr. and Mrs. J. Salmon of Clifford Chambers, Sergeant Crooks said, "I know it will be a great blow to you all, as it is to me. He was one of my best boys; always willing and ready to do anything that he was wanted to, and he earned the reputation of being one of the smartest in our platoon.

The night that poor Ray met his death on Monday 10th April at 7.00 in the evening, we were going to stand to in the firing lines as is our usual custom, and on entering the lines, the enemy began throwing aerial torpedoes over, which fell and burst in all directions. It was impossible for anyone to escape injury anywhere near where we were. I was near to Ray and his comrades, when a torpedo burst over us, killing poor Ray, and fatally wounding his next comrade. I escaped with concussion of the spine, losing the use of my legs, and have been lying on my back ever since that night. I can assure you that his death was instantaneous and that he did not suffer any pain. May God give you strength to bear the

loss, as I am sure you must be proud of him."
Cpl R J Woodward
(Inscription on the grave of Daniel and Ann Woodward in Clifford Chambers Churchyard:- "and grandsons of the above – Cpl R. J. Woodward missing presumed killed in action July 14th 1916 aged 24 years, Pte R. G. Salmon killed in action April 10th 1916 aged 22 years, Pte R. W. Woodward missing presumed killed in action April 15th 1918 aged 22 years
And in the Stratford-upon-Avon Herald 18th August 1916:

"Mr. & Mrs. F. Woodward of Bordon View, Evesham Road have just received from the Territorial Force Record Office a notification that their only son was posted as missing after an engagement in France on July 14th. Corporal Woodward who is 23 years of age enlisted in the Royal Warwickshire Regiment and crossed the Channel 12 months last March. He renewed acquaintance with several old friends the week before Easter, when he was on home leave."
And dated 13th April 1917 "A report has been received from the War Office notifying the death of Corporal Reginald J. Woodward of the 7th Battilion Royal Warwickshire Regiment which occurred with the British Expeditionary Force in France on July 14th of last year. Previously this young soldier had been reported as missing. Before joining up, he was employed with Messrs. Kendall & Sons.")
William Ernest Lively Private 3015
(From the War Graves Commission Records)
2nd Battalion Worcestershire Regiment
died Wednesday 9th August 1916 aged 31
son of John and Emily Lively
Private W. Lively killed in action August 9th 1916 at High Wood Bazentin-le-Petit
Only a very little is known about the early years of William Ernest Lively (who was probably called Bill by his family.) He was always referred to as the third son of John and Emily Lively, but, according to the Census of 1891, the oldest son had a different surname to the parents, yet was referred to as "son". John was 31 at the time of this Census and his occupation was Parish Clerk; in other words, he did all the official business at the Church apart from actually taking services, marrying, baptising, visiting - and burying - parishioners, which, of course, was the Rector's job! But John, with his official gown and official verger's staff, would precede the Rector into Church for all the services, and out again afterwards, and have all the paperwork ready in the Vestry for the Rector to fill in and sign.
Emily, his wife, came from Admington and was 4 years older, and one assumes the oldest son, Roger Edwin Denis, aged 15 at the time of the 1891 Census and written down as 'son and Agricultural Labourer at Admington,' was her son; perhaps from a previous marriage. Censuses were prepared every 10 years, and in the 1901 one, he is down as 'Ben' aged 25.
John Henry Lively was the next son on the list, in the 1891 Census listed as aged 8, scholar. Then came William Ernest 6, scholar, followed by Ada Annie 4, scholar, then Rose 2 and Ellen 11 months.
William (or Bill) joined the 2nd Battalion of the Worcestershire Regiment in March 1916 at the age of 31, and nothing, as yet is known of his schooling at Clifford School, or his work once he left school, With his father being the Parish Clerk, I would imagine it meant regular attendances at the Church – maybe singing in the choir if he had a good singing voice.
From the Stratford-upon-Avon Herald dated 25th August 1916:-
"Private W. E. Lively

Sympathy will go out with Mr. and Mrs. Lively of Clifford Chambers in the heavy bereavement they have sustained through the death of their youngest son

He joined up under the Derby system in March last, and had only been in France 3 weeks when it became his lot to make the final sacrifice. The Reverend Harold Ewbank, the Chaplain, in his letter to Mr. and Mrs. Lively, said that Private Lively had nobly laid down his life on August 9th in the defence of his freedom and the happiness of all whom he left. "I know all this will be a terrible blow to you all, but it will be a great relief to know that his death was instantaneous, and without pain. He has done the noblest and most Christ-like thing it is possible for any man to do, for has not our Master told us 'Great love has no man than this that he lay down his life for his friends.'



He was buried near the fighting line (at High Wood, Bazentin-le-Petit) with all reverence and with a cross fixed at his head."
Francis Neville Conran Smith Lt. 6th Battalion Worcestershire Regiment
(From the War Graves Commission Records)
Died Sunday 27th August 1916
Lt. Francis Neville Conran Smith, second son of Mr. and Mrs. Conran Smith, Craxted Road, Dulwich, was educated at Bedford Grammar School. He enlisted at the outbreak of the War and was given a Commission in the Worcestershire Regiment. He was wounded on Friday 25th August and died of his wounds on the following Sunday.
The Chaplain wrote, "He has left behind him a gap which will be hard to fill as his charm of manner, the simplicity of his life; his gallantry in action, and his devotion to duty made up a combination which is as rare as it is welcome."
Before the War, he farmed at Clifford with Mr. A. J. Wedd and was a well-known hockey player.
J. Hewins Lance Corporal 1641
(From the War Graves Commission Records)
1st Battilian Royal Warwickshire Regiment
Died Thursday 12th October 1916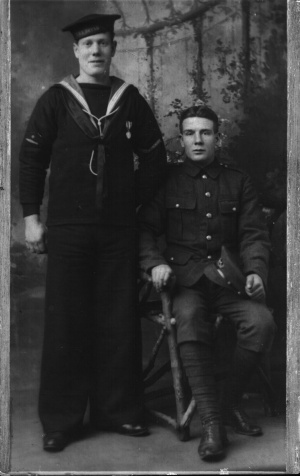 Photo:Clifford Chambers in the 1910's:Sailor and Soldier
Corporal John Hewins second son of Mr. and Mrs. Hewins, aged 24, on 12th instant was killed in action in France.
An intimation of the death of this gallant soldier was received by his parents who reside at Clifford Chambers, on Sunday last. Corporal Hewins was stationed with his Regiment at Malta when War broke out, and returned with his comrades to the Mother Country. On October 10th 1914, he crossed the Channel and eleven days later, was placed hors de combat by a wound in the head. On April 8th 1915, he had sufficiently recovered to return to the front, but again had the misfortune to be wounded in the left leg and arm on 8th November.
July 6th of the present year saw him once more actively engaged in his country's service. Corporal Hewins had four months only to serve in order to complete seven years in H.M.Forces.
From The Stratford-upon-Avon Herald dated 16th February 1917:

"Death from wounds of a Clifford man


Mrs. W. Hewins of Clifford Chambers has just received a letter from Lieutenant

Devis of the 1st Royal Warwickshire announcing the death of her son. The writer adds that he died at the Field Ambulance from wounds received under shell fire in the early stages of an attack on the 12th October. He bore the wounds most pluckily, and cheerfully spoke when he was carried away. The Officers who knew him speak of the loss his death is to the battalion, and sympathise with his relatives."
From the Stratford-upon-Avon Herald dated 12th October 1917:

In Memoriam


In proud and loving memory of our dear son and brother Cpl John Hewins of Clifford Chambers who was killed in action October 12 l916 at Ypres in France aged 24 years.
We look around our homestead and someone is missing there
We have loved and lost a dear one on the battlefield over there
No loved one stood beside him to bid him last farewell
No words of comfort would he have from those who loved him well
Never absent from the thoughts of mother, father, sisters, brother, and Florrie from the Isle of Wight.
John Hewins was the son of John Henry Hewins and Adalin Hewins, and half-brother to Geoffrey John Ivens


(John Hewins was also the lad who had to be horse-whipped by Col.Studley as Miss Wilding could do nothing more to discipline him, but who turned up in his army uniform at the school to say sorry to her!)
Albert Edward Mole 1st Battalion Grenadiers
(From the War Graves Commission Records)
Son of Arthur Edward Mole
No more is known of Albert Edward Mole. The knowledge that the descendants of his immediate family have, is that Albert joined H.M.Forces on leaving school, and was never known to have stayed, or lived, at his home again, from then on.
(From the War Graves Commission Records)
Died Saturday 21st April 1917 aged 27
Son of Mrs. E Hewins
Buried at Clifford Chambers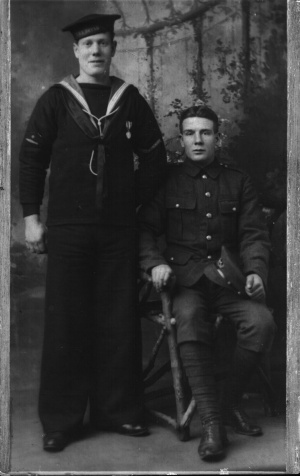 From the Stratford-upon-Avon Herald dated Friday 27th April 1917:

On the 21st inst. Killed in action Geoffrey George, Leading Seaman of H.M.S. Broke, the eldest and beloved son of Ellen and William Hewins of Clifford Chambers, aged 27. "Greater love hath no man than this, that he laid down his life for his friends.
From the Stratford-upon-Avon Herald 27th April 1917:

Among those who fell gloriously in the recent naval engagement off Dover was Leading Seaman George Geoffrey, the eldest son of Mr. and Mrs. Hewins of Clifford Chambers at the age of 27, and he was given a naval funeral in the Gloucestershire village yesterday (Thursday) afternoon. This young hero, who had seen eleven years' service in the Navy, was well-known at Clifford, and the whole village turned out to pay a last tribute of respect to his memory.





The coffin, which was covered with the Union Jack and several beautiful wreaths, was borne shoulder-high to the Church, escorted by a firing party from Budbrooke under Sergeant Norris and a contingent of wounded soldiers from Clopton. The mourners included Mr. and Mrs. Hewins, the Misses Gladys, Doris, and Vera Hewins (sisters), Mr. Harold Hewins (brother), Mr. Jesse Hewins, Miss Hilda Ivens (cousins), Mr. and Mrs. Ivens, Mr. and Mrs. H. Hewins, Miss F. Davis, Mrs. Dodd. Miss Harris and a Stratford representative of the Navy in Seamen Croft. The Rev. W. A. Pippet met the cortege at the entrance to the Church, and impressively recited the Burial Service, the hymns sung being "There is a blessed home", and "For all the Saints". Miss M. Pippet was at the organ, and as the mourners filed out of the Church, she played the "Dead March" in Saul. The committal prayers were read by the Rector in God's Acre, and then the soldiers from Budbrooke paid full honours to their departed brother by firing three volleys over the grave, while the bugler sounded the "Last Post". There were a large number of lovely wreaths, and among those who sent emblems were the father and mother, sisters and brother, Mr. and Mrs. H. Hewins, Aunt Edith and Uncle, Mrs. Douty "with deepest sympathy", the maids at The Manor, the Women's Volunteer Reserve (Dover Company), "the Ship Company", "a few old friends", the villagers of Clifford, Mr. and Mrs. Tompkins, Miss Derry, Mrs. Dodd, Miss Harris, Mrs. Radbourne, Kathleen Radbourne, the elder schoolchildren and the infants. Mr. Dodd carried out the duties of undertaker.
From the Stratford-upon-Avon Herald dated April 19th 1918:

In loving and affectionate remembrance of P.O. Geoffrey George, the elder and beloved son of Ellen and William Hewins of Clifford Chambers who was killed in action in the Dover bombardment April 20/21st 1917/


A devoted son, a true and faithful friend
One of the very best God did lend
He gave his dear life for one and all
And answered to his country's call
No mother or dad to see him die
No sisters or brothers to say goodbye
No loving mother to hold his dear hand
But we hope to meet the dear one in a better land
Sleep on dear one, and take your rest
Those miss you most that loved you best
And when days are sad and friends very few
Oh! Our dearest Geoffrey, how we long for you


Never absent from the thoughts of his broken-hearted mother, dad, sisters, brothers, uncle and aunt from West Street, Mollie for Erdington and little Cissy for her loving bunch of flowers.
(Maurice Woodfield, son of Geoffrey George Iven's sister, Vera, says that he was told his Uncle Geoffrey died from wounds caused by his legs being blown off, though he survived long enough to smoke his last Woodbine! His death took place in the English Channel just off the port of Dover, and his body was brought back to Clifford for burial)
Ernest Jessie Odell Private 42523
(From the War Graves Commission Records)
A Company 2nd Battalion Worcestershire Regiment
Died Wednesday 1st November 1916 aged 31
Son of Henry A Odell and Mary A. Odell, Little Alne, Wootten Wawen
Charles J. Giles Private 55056
(From the War Graves Commission Records)
Machine Gun Corps Infantry 48th Battalion
Died Tuesday 23rd April 1918 aged 26
Husband of Mrs. C. J. Giles Clifford Chambers
(Mrs Gertrude Giles was left with a small son, Derek, to bring up. She and her sister, Agnes, were the twin daughters of Ewib and Mary Ann Cockbill who kept the dairy at No 18 Clifford Chambers.)
Stephen Ernest Bennett Private 35232
(From the War Graves Commission Records)
16th Battalion Royal Warwickshire
Died Saturday 20th April 1918 aged 19
Son of Stephen and Eliza Bennett, Clifford Chambers
From the Stratford-upon-Avon Herald Dated 3rd May 1918:

"On the 20th ult. killed in action in France Private Stephen Ernest Bennett 16th Royal Warwick Regiment only dearly-beloved son of Mr. and Mrs. S. Bennett of Clifford Chambers, aged 19 years


He sleeps beside his comrades
In a hallowed grave unknown
But his name is written in letters of love


In the heart he left at home."
Stephen Ernest Bennett had two older sisters, Frances and Fanny, all living in Clifford Chambers, the children of Stephen and Eliza Bennett and the grandchildren of Stephen and Frances Bennett; all 3 Stephens being agricultural labourers at Clifford Chambers. Nothing more is known of them.
Letter written to Rev. Pippet from Stephen Bennett from Hut 36, Regt 2nd 8/9556. B.Coy, 8th Batton. 35TR. No 1 West Farm Camp, Havant, Nr. Salisbury, Wilts, dated April 14th 1917 (written in pencil in neat handwriting):

Dear Sir,



I thought its my duty to write to you, to let you know I am getting on alright, and quite happy. I am in the 35th Training Reserve, it is rightly the 7th Dorsets only they are attached to the Reserve. It is rather a nice camp, well situated in a valley. There are some very fine land–marks on the hills, one is the 6th "City of London Regt.". I expect Clifford is rather quite, but I hope to be home on leave soon. I have been up eight weeks last Friday, we have seen great change in that time. We have boxing hear, I have had the gloves on several time the last time I knocked my man out. We are having dreadful weather hear nothing but snow, or rain. I was vaxenated last Thursday week, which caused me to have rather a bad arm, we are expecting a double dose Monday. Fred Lyne is quite well, we are both together. Well Sir please excuse the pencil as it is rather difficult in obtaining ink. So I will conclude my short letter has the bugle is sounding, So I remain,
F Your's Obedient


Pte S. E. Bennett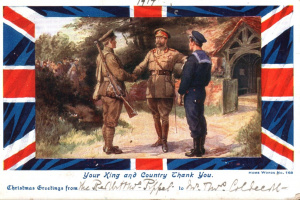 Reginald William Woodward Private 21457
(From the War Graves Commission Records)
3rd Battalion Coldstrean Guards
Died 13th April 1918 aged 22
Reginald William Woodward was the son of William (a millers carter at Weston-on-Avon) and Elizabeth Woodward, and grandson of Daniel and Ann Woodward of Clifford Chambers.
William Wheeler Lance Corporal 0743
(From the War Graves Commission Records)
9th Battalion Royal Warwickshire
Died Thursday 6th April l916
Buried in Iraq
From the Stratford-upon-Avon Herald 5th May 1916:
"The death is announced of Lance Corporal W. Wheeler of the Royal Warwickshire Regiment, son of the late M. and Mrs. Wheeler of Clifford Chambers. Wheeler enlisted about 10 months ago, and his first engagement was in the Dardanelles. He remained in Egypt some time, and then took part in an action at the Persion Gulf, where he was severely wounded. He died from his wounds on the 6th April, much to the regret of his officers. Wheeler was, for some time, in the employ of Mrs. Douty of Clifford Chambers and afterwards entered the services of Mr.Griffiths of Edstone Hall as chauffeur
Addition of Steps to the War Memorial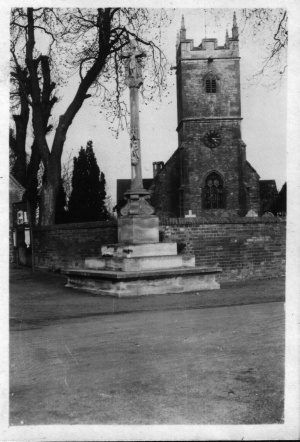 Section of the Minutes of the Meeting of the Parish Council in the Parish of Clifford Chambers held at the Village School on Monday the 10th day of January 1921
Present – Mr. J. R. Black Chairman


Mr. J. H. Bailey
Mr. J. L. Radbourne

Clifford Chambers War Memorial
Encroachment on Footpath
Read a letter from the Rev. F. H. Hodgson M.A. addressed to the Chairman of the Parish Council, stating that it was proposed to place stone steps at the foot of the Village War Memorial and asking if this Parish Council had any objection to the slight encroachment on the footpath that would be caused thereby.

Moved by the Chairman
Seconded by Mr. J. H. Bailey and


Resolved unanimously – That the Rev. F. H. Hodgson be informed that the Parish Council has no objection to the encroachment on the footpath which would be caused by the placing of stone steps at the foot of the village War Memorial.
Those Who Fell in the Second World War
Kenneth Patrick English Flying Officer 41273
(From the War Graves Commission Records)
Pilot 274 Squadron Royal Air Force
Died Monday 12th May 1941 Buried in Egypt
From the Stratford-upon-Avon Herald dated 30th May 1941:

"Flying Officer Kenneth Patrick (Pat) English, the eldest son of Mr. and Mrs. K. M. English of Clifford Chambers, is missing as the result of air operations by the RAF in the Middle East.



Flying Officer English who is 27 was, for a time, on the staff of the NFU Mutual Insurance Society and later was in the Birmingham Office of the London Assurance Society. He joined the RAF in 1938 having decided to make flying his career.



The many friends of the family will sympathise with them during the anxious wait for news."
Research has shown no other news of Pat English beyond the above found in the Stratford Herald. The date of death on the War Graves Commission Records is the date Pat English was reported missing. It is believed he and his parents lived at The Laurels, and it is also believed his mother was a school teacher.
Frederick Charles Pinfold Sergeant Volunteer Reserves 130878
(From the War Graves Commission Records)
Air Gunner Royal Air Force
Died Thursday 13th April 1944 aged 23
Son of J. F. Pinfold
From the Stratford-upon-Avon Herald dated 21st April l944:
Clifford Air-Gunner killed



Sergeant Air-Gunner Frederick Chas. Pinfold elder son of Mr. and Mrs. Pinfold of Clifford Chambers has been killed on active service. Sergeant Pinfold who had completed some 17 operations over enemy country was well-known in Clifford Chambers and in Stratford. He was 23 years of age and before joining the RAF in 1940, was employed at the Shakespeare Memorial Theatre.

Educated at Clifford School and King Edward VII School, he was ground-gunner for some time, but later transferred to air crew. He was keen on all sport, particularly fishing.

There was a large attendance at the funeral at Clifford Chambers on Monday (17th April) The service was conducted by the Rector, the Rev. F. Meridyth Brookes. The 23rd Psalm and the hymn "Peace, perfect peace" were sung. Miss D. Dodd L.L.C.M., L.R.A.M. being at the organ.

The chief mourners were Mr. & Mrs. J. Pinfold (father and mother), Mr. Jim Pinfold (brother). Miss Mary Jeffrey (fiancee), Mrs. & Mr. C. Mullis (aunt and uncle), Mr. E. Mullis, Mrs. Hobbs, Mr. and Mrs. Jeffrey, Mr. and Mrs. H. Lively, Mrs. J. Salmon, Mrs. J.Huckvale, Mr. and Mrs. R. Tustain, Mrs. L Silvester, Mr. and Mrs. H. Cockbill, Mr. R. Harris, Mr. G. Harris, A.C.l. R. Burton, A.C.1. D. Brocklehurst and L.A.C. R.Embrey.


Among the flowers were tributes from the Head Postmaster and Staff; O.C. and all ranks from his station; O.C. and all ranks from his squadron; customers and friends New Inn; Clifford Chambers Forces Fund; and Front staff Memorial Theatre. Mr. R. Dodd carried out the funeral arrangements.
From a letter written by Trevor Timperley
"Fred was about 17 when I came to live at "Chetwynd" in September 1937. He lived with his young brother Jim, and Mother and Father at No 2 The Nashes. This house was at the top of my back garden and I soon became friends with Fred. I don't remember what job Fred had then, but I do remember him getting a job in 1938 as a shop assistant at the shop in Greenhill Street (believed to be Fred Smith's) almost opposite to the site of the old cinema. It sold fishing tackle and Fred was a keen fisherman. If ever anyone would answer "Yes" to the question, "Are you happy at your work?" it would be Fred! The prospect of discussing fishing and showing fishing tackle to customers, really had him enthusing!



I was no fisherman, but I would occasionally go with him. One evening in 1938 he caught a large pike and for some reason I don't now know, took it to my home and left it in the large sandstone kitchen sink. It had been stunned only, by the blow to it's head, but we both believed it dead, and went out again. By the time my mother returned to the house, a dripping tap had revived it, and it had leapt from the sink to the kitchen floor. My mother got an enormous shock to find it flopping round the kitchen floor. Fred was really apologetic.

I went into the Army in 1939 and transferred to the RAF in 1941 becoming a bomber pilot in 1942. Fred was called up early in the war and became an RAF air gunner in which capacity he was killed in about 1942. I never saw him from the start of the war as our leaves never coincided.



Fred's father was the local postman based in Stratford, but doing a round that included Clifford and Atherstone. War casualties were notified by telegram and when notification came through to Stratford that Fred was missing, his father was on duty. The telegram would normally have been delivered by a "telegram boy" on a bicycle but Fred's father did the task. What a task – to deliver to your wife notification by telegram that their son was missing!"
John Spencer Salmon fusilier 14552875
(From the War Graves Commission Records)
6th Battalion Royal Welch Fusiliers
Died Monday 24th July 1944 aged 19
Buried in France
(from the gravestone in Clifford Churchyard of Percy John Salmon and Elizabeth Ann Salmon "John Spencer Salmon elder son of the above died in Normandy July 24th 1944 aged 19 years")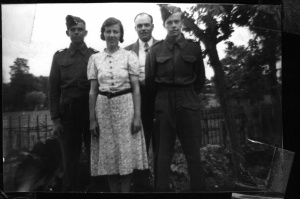 From the Stratford-upon-Avon Herald dated 4th August 1944:
Clifford man dies of wounds)



Wounded in Normandy in July, Fusilier John Spencer Salmon, elder son of Mr. and Mrs. P. J. Salmon of Clifford Chambers died four days later. He would have been 20 in November.



Fusilier Salmon enlisted in March 1943. He was employed by Messrs. Titchmarsh and Hunt Ltd. at Stratford-upon-Avon
From the Stratford-upon-Avon Herald dated 11th August 1944:

Deaths


Salmon – Fusilier John Spencer Salmon, Royal Welch Fusiliers aged 19 died of wounds in July
Not far away, for unbroken
Is the golden chain of love
It is binding us still together
On earth and in Heaven above


Never forgotten by his mother, father, Gerald and Dinah.
John volunteered for active service the same time as Claude Hogg and they both went to Budbrooke Barrocks together. John was accepted, but Claude was refused as he was in agriculture and needed on the farm. However, when John had leave during his training there, Claude would often cycle back to Budbrooke with him.
Douglas John Mole Flying Officer 168506
(From the War Graves Commission Records)
10th Squadron RAF Volunteer Reserves
Died Monday 18th December 1944 aged 29
Son of Albert and Violet Mole; husband of Lilian Mole of County Durham
Douglas was always known as Jack by friends and family. He lived at 'Ynot', a house built by his father who was an engineer. The plans for his house included an annexe to the kitchen to house the copper/boiler, but planning consent was not given. Albert's answer to them was "Why not?" Hence the name of his house! Jack went to the village school, but when his father was given a job by the Water Board, the family moved to Stratford. Jack worked at Hensons when he left school, and later married a girl from Northumberland.
From The Stratford-upon-Avon Herald 26th April 1918:
"On March 24th Lt. Reginald T. Dent (aged 19) grandson of the late Rev. Francis H Annesley formerly of The Manor House Clifford Chambers, was killed in action whilst holding on with a few men to a position which was practically surrounded by the enemy. His brother, Captain Arthur Evelyn Dent was killed in the battle of Arras on Easter Day last year and his elder and only surviving brother is now in France."
From the Gravestones in Clifford Churchyard of Names not included on the War Memorial
Flt. Lt. C. E. Brayshaw killed in action February 21st 1944 aged 22 (his sister is Pauline Mary Rowe)
Wilfred George Lewis Warrant Officer RAF killed in action 28th September 1944 aged 24 years
And on another gravestone in Clifford Churchyard
Douglas Edward Downes Curry (21) Lost in H.M.S. Captain September 6th 1870