Outskirts
Jump to navigation
Jump to search
The Parish Outside the Village
Monks Barn | Milcote and Station Road | Wincot and Willicote | Shipston Road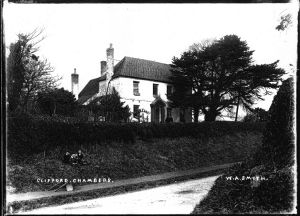 'May Bank,' Milcote Road
Mr. and Mrs. Sylvester with their children lived in this large three-storey house, though very few had memories of them, mainly because they did not mix with the people in the Parish.
Len Salmon could vaguely remember Mr. Sylvester travelling along the Milcote Road in his fancy barouche driven by two smart black horses, but his memory of the first car they had, was more acute. That brand new shiny car was very noticeable,for the Sylvesters were among the very few in the Parish who had a car.
They had staff there looking after this large house, and more for the garden. As far as anyone can remember, their children, Minnie and Lily never went to a school, so possibly they were educated at home by tutors.
It is believed that Minnie married – Claude thinks her husband was Alf Rolls' brother – and made their home at Welford. Lily remained unmarried, living with her widowed mother and then, after her death, living on in the large house. It seems that she was unable to look after it. Maybe her parents felt their daughters did not need to know such things – as servants would do that for them. It is uncertain if she even knew how to cook.
She did, however, know how to use the telephone and order food. They were one of the first to be fitted up with a telephone – possibly when Mr. Sylvester was still alive. Lily, each week, put through her order to Ballances,the Grocers, and Len Salmon, the Delivery Boy, would bring it to the house. But no-one came out to take it from him. He had to leave it in a certain place, and in the post would come a cheque for the goods, so the shop knew she had received her groceries.
There was no running water in the house, for all water had to be drawn up from the well there, and Claude was not certain even if there was any electricity there either.
Lily did come out of the house occasionally by phoning for a taxi to take her to her Solicitors, Doctors, etc. She enjoyed keeping poultry, cattle and sheep on her land, for the house came with land, and paid various local people to look after them.
When she became very frail, no-one saw her – except her nose and one eye. This was how far she opened the door if anyone called. Rev Leonard-Williams, on hearing about her, felt he should call and introduce himself, but it was difficult to do so with a nose and one eye. On his enquiry to ask if she was well, he received a soft reply "Yes thank you" and to his enquiry if she wanted anyone to help, "No thank you", and then the door was shut.
It was when she died, that the full extent of the damaged house was revealed, and walking around the damp place, one felt sorry for this little lady who, it seemed, just lived in her kitchen during her last years.
The top floor was too dangerous to reach due to the wet, soaking wooden stairs. Even the stairs up to the second floor looked as if they could collapse up if one trod rather heavily on a step. On the ground floor, wallpaper in each room was so soaked, it came away in one's hands, leaving folds of it hanging limply. The house stank of mould, decay, and rot. The kitchen was where she ate, lived and apparently slept, with the stone floor coping well with the damp, and the kitchen mats being ones that could easily dry out when placed over a clothes line.
But she seemed happy just to be in her own home with her memories of days that were hopefully happier than those in her last years.
The Tin Tops (Tabernacle)
Tin Tops had a corrugated roof – though it is possible the roof was originally a thatched one but was replaced with the corrugated roof when the thatch rotted. It was set in the field next to the large house - Springfield House. This large house was not in the Parish of Clifford Chambers, but the field – along with Tin Tops – was definitely in the Parish of Clifford Chambers.
Monty Preston lived in this corrugated roof cottage with his wife and only child – Patricia. Pat (as she was called), was a beauty – small but very articulate as well as attractive with beautiful blonde hair. She attracted the attention of Tony Green in the village, married, and spent their early year of marriage at The Nashes. They in turn had only one child – a girl – a beauty – slender and taller than her mother and just as articulate as her parents – and with a very sensible head on her shoulders.
Monty, as far as I can make out, was just a farm worker, but his daughter – and grand-daughter made one think they were descended from high-thinking people. Perhaps, despite Monty's humble working life, he was!
Shipston Road Bungalows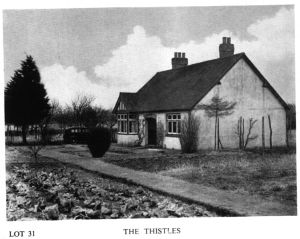 It seems certain these bungalows were built on a part of a field in the parish of Clifford Chambers, sometime between the two world wars.
John Bailey was not the first owner of the first one – now called "The Thistles". He and his wife when they first married, squatted at Atherston Aerodrome. This was quite common after the Second World War when the empty buildings and Nissen huts built by the War Office for training 'our boys' for the War – were very suitable for housing those bombed out of their homes and those needing somewhere to live.
As things became better for this young couple – and things became better for the country on the whole - , John and his wife bought "The Thistles" a beautiful bungalow with a large garden where he grew plants in his greenhouses, and kept chickens in another part of the garden in between his proper work of a tool-maker.
But his greatest treasure was his old steam-organ which he worked on throughout the years, polishing, and cleaning, and mending and repairing – until it was spotless and ready to show around the country.